The Procurement Service – Philippine Government Electronic Procurement System (PS-PhilGEPS) under the Department of Budget and Management (DBM) has entered into a Government Fares Agreement (GFA) with the Philippine Airlines (PAL) that will ensure savings and efficiency in government domestic travel. The signing ceremony was held last April 26, 2016 at the PS-PhilGEPS office in Paco, Manila.
The government has allocated P10.3 billion for the domestic airline travel of officials and employees for the year 2016 and through the Agreement, it is expected to save P830.93 million from discounts on economy class travels and P519.38 million from the waiver of the processing fee.
The officials of the PS-PhilGEPS and the Philippine Airlines at the signing ceremony for the Government Fares Agreement 
Dir. Rosa Maria Clemente, Executive Director III of the PS-PhilGEPS opened the event by welcoming guests from the PAL, government agencies like the Government Procurement Policy Board – Technical Support Office, Department of Education, Department of Environment and Natural Resources, Department of Foreign Affairs, Department of health, Department of Public Works and Highways, Department of Social Welfare and Development, and media organizations.
PS-PhilGEPS Executive Director Jose Tomas Syquia told the attendees at the signing ceremony that PS-PhilGEPS continues to exert efforts for both the government and the private sector to do business with each other in more efficient ways. With the GFA, PAL will only need to transact with one agency for the aggregated requirements of government and government agencies need not bid out their requirement but only have to avail of services under the GFA.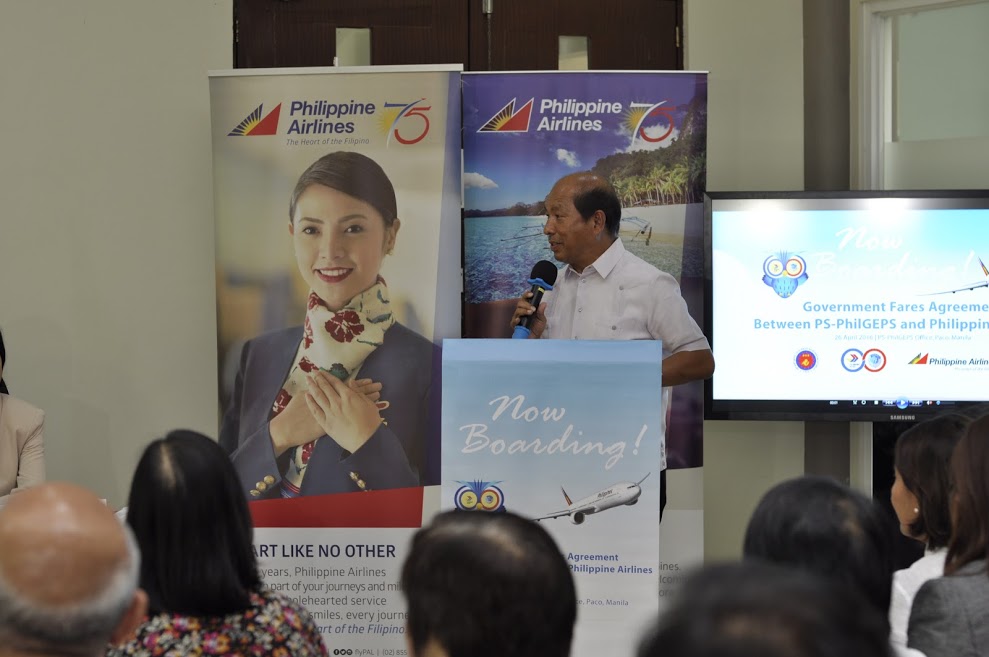 Keynote address was given by the DBM Secretary Florencio B. Abad
The activity was also graced by DBM Secretary Florencio Abad who is quoted as saying ". .finally" to emphasize that the time has come for government to procure plane tickets more efficiently and at a premium discount and that this partnership is a step towards government building relationships with the private sector. In closing his keynote speech, he also said that finally is not enough and that we should get going and sustain these improvements in saving more for the government.
In his message, PAL President Jaime Bautista stated that the country's flag carrier is a proud partner in the GFA and that as it celebrates 75 years of service to the Filipino, it is eyeing to add further to the pride by becoming a five star airline in five years. It will do so by expanding its network of flight routes, long-haul expansions and acquiring more new aircrafts. Several PAL officials also witnessed the signing of the GFA and PAL VP for Treasury Mr. Michael Tan and SVP - General Counsel Atty. Siegfred Mison were, respectively, the signatory and witness to the GFA,
DBM Undersecretary and Chief Information Officer Richard Bon Moya provided the closing remarks at the event by thanking all parties in the Government Fares Agreement and why reforms should continue even beyond the present administration.
Related Media publications:
http://www.dbm.gov.ph/?p=15521
http://business.inquirer.net/209804/dbm-pal-ink-deal-on-discounted-domestic-trips-of-govt-workers
http://cnnphilippines.com/business/2016/04/26/DBM-PAL-government-fare-discount.html
http://www.gmanetwork.com/news/story/564073/money/companies/pal-deal-to-save-gov-t-more-than-p1-3b-on-official-domestic-travels
http://news.pia.gov.ph/article/view/3001461653036/gov-t-inks-deal-with-pal-on-domestic-airline-travel
http://www.bworldonline.com/content.php?section=Nation&title=gov&8217t-pal-ink-agreement-on-discounts-on-domestic-trips-for-officials&id=126621
http://www.sunstar.com.ph/manila/local-news/2016/04/26/government-save-p13b-discounted-air-fares-470115
http://www.philstar.com/business/2016/04/27/1577037/pal-grants-discounts-official-government-travel
http://www.eaglenews.ph/govt-inks-deal-with-pal-on-domestic-airline-travel/