From left to right: Arlene Tena, Director for Passenger Sales of Cebu Pacific; Andrew Huang, Chief Finance Officer; Alexander Lao, President and CEO of Cebgo; Michael Szucs, Chief Executive Adviser of Cebu Pacific; Benjamin Diokno, Secretary of Department of Budget and Management; Lance Gokongwei, President and CEO of Cebu Pacific; Bingle Gutierrez, Executive Director of DBM's PS-PhilGEPS; Agnes Bailen, Undersecretary of DBM; Flerida Arias, Officer-in-charge Director, Operations Group of PS-PhilGEPS; Rosa Maria Clemente, OIC Deputy Executive Director V of PS-PhilGEPS; Dalisay Dela Chica, Chief, Sales Division of PS-PhilGEPS; Leah Valdez, Chief, Marketing Division of PS-PhilGEPS
November 28, 2016 – Performing its mandate to aggregate the common requirements of government, the Procurement Service – Philippine Government Electronic Procurement System (PS-PhilGEPS), an attached agency of the Department of Budget and Management (DBM), signed the Government Fares Agreement (GFA) with Cebu Pacific (CEB) which will take effect by 2017. The signing ceremony was conducted at the Cebu Pacific Airline Operations Center in Pasay City.
This agreement will provide discounted airfares to all official government flights and other benefits such as waiver of fees and additional baggage allowance.
Ms. Bingle D. Gutierrez, Executive Director of PS-PhilGEPS, said that airline tickets are among the biggest items procured by government each year, with at least P10.3 billion earmarked this year for domestic travel alone based on the national budget. She also said that the PS-PhilGEPS is working to enrol the flights for next year's hosting of the Association of Southeast Asian Nations (ASEAN) Summit meetings under the GFA to cut state expenditures.
Executive Director Gutierrez added that the PS-PhilGEPS has also started talks with AirAsia Bhd. last week for a similar GFA with the international low-cost airline. She said they are currently waiting for the company's proposal, with the goal of also signing the deal by yearend so that it will be in place by 2017.
The President and CEO of Cebu Pacific, Mr. Lance Gokongwei, stated in his message that "...with this partnership, government offices can purchase airline tickets faster and easier, as CEB is now part of their system of suppliers. We are pleased to contribute to this initiative, making air travel more convenient and accessible to our workforce in the government. We are looking forward to flying more government employees as this will also cultivate financial and economic growth of the different regions and provinces in the Philippines."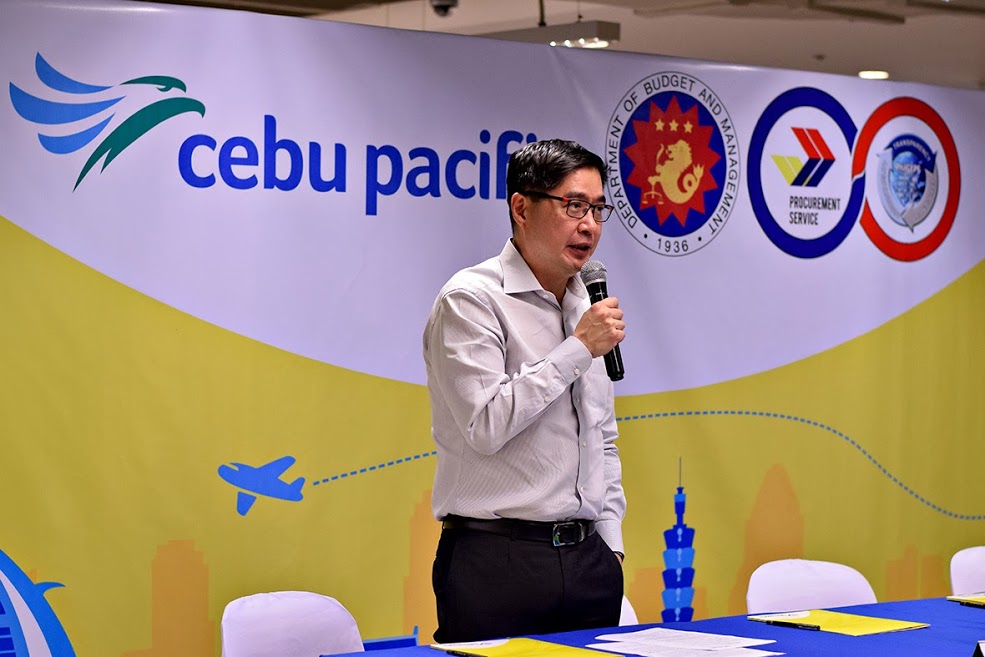 The signing ceremony was also graced by DBM Secretary Benjamin Diokno as the keynote speaker. "On a larger scale, this GFA is also seen to promote fair and open competition among the major airlines towards obtaining the best value for money for government agencies," Sec. Diokno said.
In addition, Sec. Diokno expects that the government will save "more than P1 billion" in terms of total discounts and waived fees under the agreement.
 In April, a similar arrangement was signed by the government with flag carrier Philippine Airlines . FAQs on the Government Fares Agreement may be viewed in this link.
Related Articles: .
3 Fast Facts On Cebu Pac Signing Air Fare Deal For Govt. Employees And Officials
DBM, Cebu Pacific ink deal for discounted fares for state workers
Gov't signs air fare deal with Cebu Pacific
Cebu Pacific to give discounts for gov't employees on business trips
CEB, DBM sign Government Fares Agreement
Gov't signs bulk ticket deal with Cebu Pacific
Cebu Pac offers discounted rates for govt. employees
Ceb Pac: Discounted rates for gov't officials on official travels
PH gov't employees get discounts from Cebu Pacific
Gov't employees on official business to get Cebu Pacific discounts