Dr. Ludina Insigne, a 36-year-old fellow at the Department of Health's (DOH) Field Epidemiology Training Program (FETP), was Philippines' 1077th case of COVID-19.
Insigne was among the country's first contact tracers who followed the trail of the first confirmed cases back in February. Several weeks after, she started having cold, cough, and body pain. On March 28, in the same month when the first local transmission of the virus was reported, she tested positive for the viral disease.
The case of Insigne, and similar circumstances that other frontline workers and service personnel go through, are what motivate the Procurement Service of the Department of Budget and Management (PS-DBM) to fulfill its mission and mandate: provide smart procurement solutions in aid of its client-agencies amid the pandemic.
Following President Rodrigo Duterte's declaration of state of public health emergency, PS-DBM made COVID-19 response items available as common-use supplies and equipment. By virtue of the Bayanihan to Heal as One Act which included provisions on emergency procurement, PS-DBM was also able to procure more than  a million set of medical grade personal protective equipment (PPE)—most of which were turned over to DOH in April.
It was also in April when Insigne was discharged from the hospital, having been cleared of COVID-19. Not too long after, Insigne was back in service. She was more than ready to return to the battlefield, donning herself with PPE that PS-DBM procured.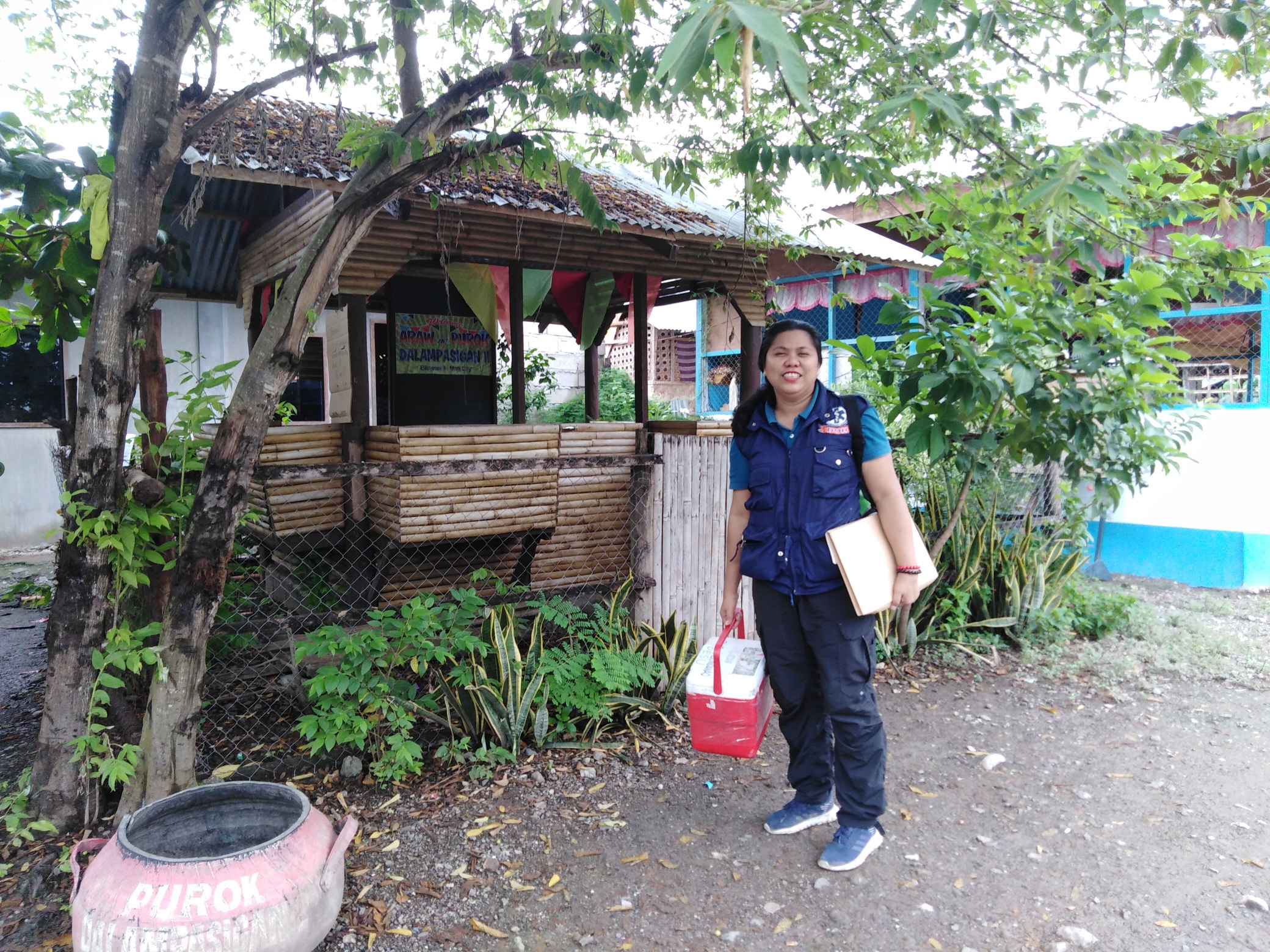 Dr. Ludina Insigne of DOH – Epidemiology Bureau during one of her fieldworks for COVID-19 outbreak investigation.
As field epidemiologists, Insigne and her team are tasked to conduct field work for outbreak investigation that necessitates patient profiling, contact tracing, specimen collection and transportation.
"The turnover of medical supplies and other essential items by PS-DBM was a great help in order to continue to provide healthcare services especially for DOH-retained hospitals and other health facilities whose supplies are limited," she said.
While Insigne is out there in the field, Dr. Therese Anne Suñe, 33, works within the confines of a hospital. This, however, doesn't make her less exposed to people infected with the virus. In fact, her daily routine as a fellow at the Infectious Diseases of the Research Institute for Tropical Medicine (RITM) since the pandemic began includes regular rounds in the COVID-19 intensive care units and wards.
RITM serves as the national reference for emerging and re-emerging infectious diseases. In April, RITM received over a hundred thousand PCR test kits from PS-DBM to help boost its testing capacity.
Dr. Therese Anne Suñe (middle) gears up as she goes for her regular physician rounds in RITM.
As the infectious and tropical diseases arm of DOH, RITM was also provided with PPEs. Directly catering to the patients and overseeing their treatment, Suñe continues to hold the fort at the frontlines.
"The [PS-DBM's] provision of PPEs is vital to this pandemic response. The healthcare workers need to be protected… Leaving them vulnerable to the disease would compromise the quality of care that we can provide," she said.
Cognizant of this, DOH always managed to immediately procure the much needed COVID-19 response items with the assistance of James Remar Fajardo. Previously a nurse, the 32-year-old is now an administrative officer of DOH's Procurement Planning and Management Division.
Fajardo attests to the challenges in procurement that came with the pandemic, among which is the scarcity in commodities. But with PS-DBM's relentless effort to procure, DOH's requirements are continuously met.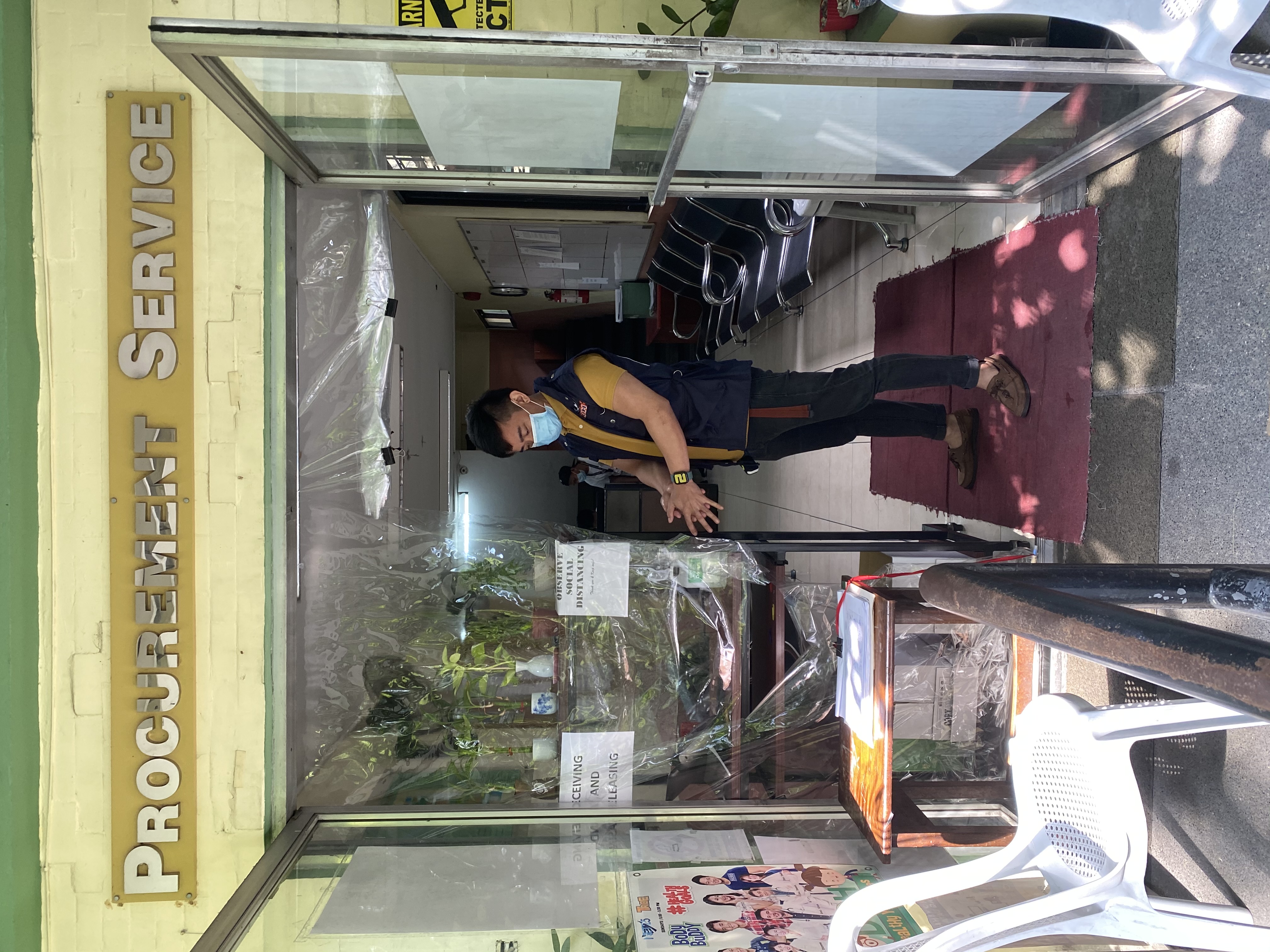 James Remar Fajardo begins another day of procurement for the DOH.
"We have been very busy since the pandemic began… We appreciate the usefulness of PS Virtual Store in this situation," he said, adding that the online facility definitely had him experience ease of procurement.
Despite his contributions, Fajardo seems to downplay his service. "Compared to medical frontliners, my task is way easier and safer," he said.
While such pronouncement is true for some, others' version of truth makes comparisons irrelevant. Take it from 23-year-old John Mark Duetes, a project development officer and the sole designated procurement officer of the Department of Social Welfare and Development (DSWD).
As part of the National Resource and Logistics Management Bureau of DSWD's Disaster Response Management Group, Duetes and his team are appointed to augment distribution of relief goods in the Philippines. This, he said, entails more hours in procuring items for all identified shortages. From market scanning to the actual delivery of supplies, Duetes proactively takes part.
"Some COVID-19 response items like alcohol and surgical masks were part of sanitary kits that were given to the vulnerable sectors of our community. The availability of such supplies is crucial, and PS-DBM provides them whenever available," he said.
Asked about what keeps him going, Duetes refers to a famous ad that asks: "Para kanino ka bumabangon?"
John Mark Duetes (left) checks the items for delivery before DSWD distributes them to communities.
"I'm inspired because it's not every day that one is called to serve," he answered.
To serve and to protect was the same calling that summoned 36-year-old Jerry Val Arceo to the streets of the metro. As a police staff sergeant of the Sta. Mesa, Manila Police Station 8, Arceo was assigned to man checkpoints back in March.
Arceo with his men were to implement peace and order, while making sure that health protocols in compliance with the prevailing quarantine guidelines are observed. And they take no exemptions.
"Gumagamit din kami ng face shield, face mask, at medical gloves [from PS-DBM]. Meron kaming pang-disinfect bago kami mag-duty at bago kami mag-out sa duty. Meron din kaming proper orientation [kung paano sila gamitin.]"
Other personnel of the Philippine National Police, meanwhile, were deployed to the COVID-19 mega-swabbing centers in the country as supervised by the Inter-agency Task Force (IATF) on Emerging Infectious Diseases. In May, PS-DBM donated essential items to the IATF for full operation of the swabbing centers.
Aside from these manifestations of alliance, PS-DBM also expressed its support to the Department of Education's reconfiguration of 2020 Brigada Eskwela and Oplan Balik Eskwela. In an effort to extend assistance not only to agencies but also to government employees, PS-DBM also reopened its retail store which makes common-use supplies and equipment available for personal consumption.
These stories are not merely accounts of collaboration, but also of valor and heroism, because in these trying times, we are each other's heroes. 
* Some of the quoted statements were reconstructed for brevity and clarity of thought.