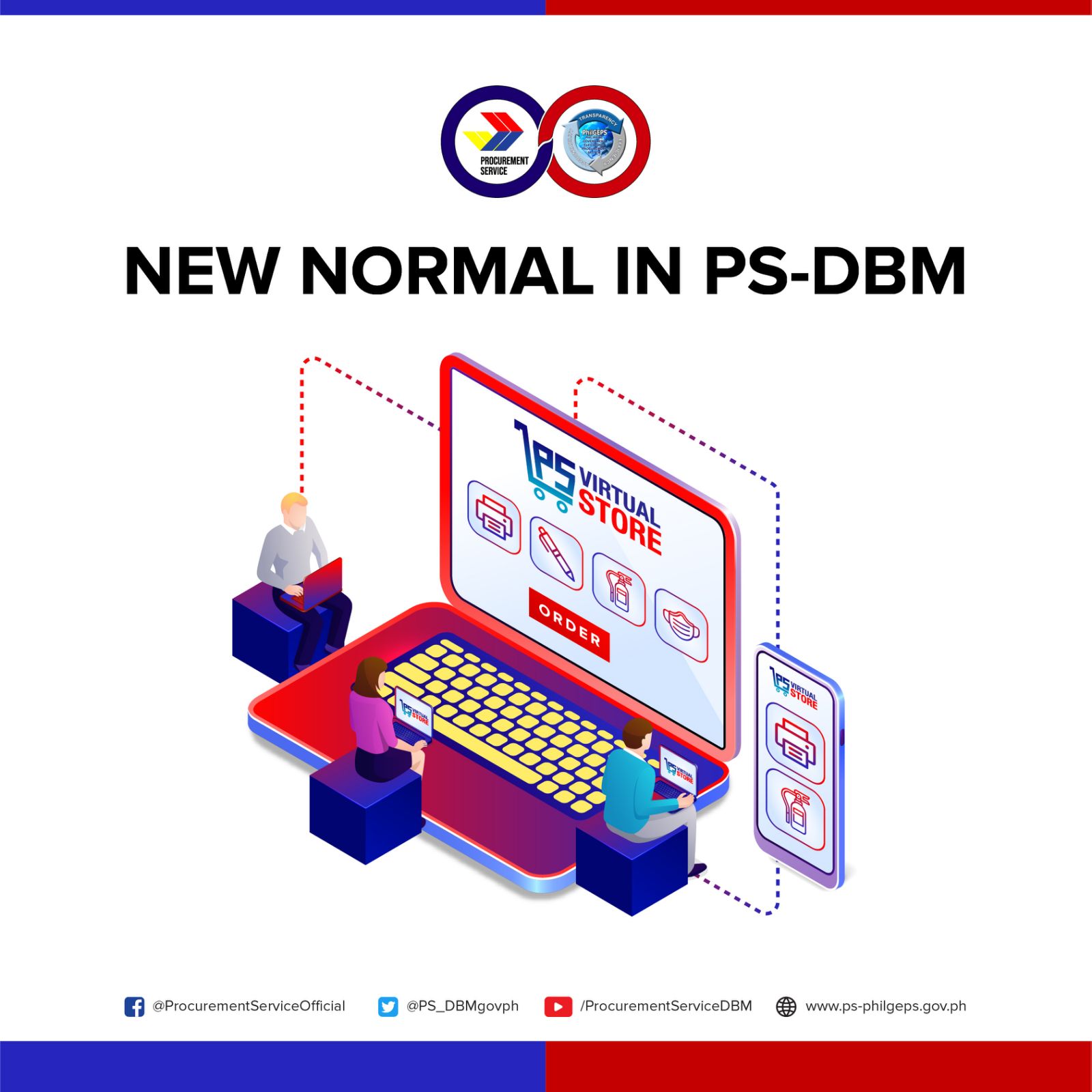 This article is the updated version of a previous write-up published 25 September 2020 with the same title. See: Transacting with PS-DBM in the "New Normal"
Following the declaration of the implementation of Enhanced Community Quarantine in Metro Manila from August 6 to 20, 2021, the Procurement Service of the Department of Budget and Management (PS-DBM) including the Philippine Government Electronic Procurement System (PhilGEPS) is adopting an alternative work arrangement to ensure operational continuity.
The PS-DBM, manned by a skeleton workforce from Mondays to Friday, 8:00 AM – 5:00PM, encourages all client-agencies, partner merchants, and other stakeholders to utilize its digital platforms when transacting. This is to help curb the current surge of the new Delta variant.
In relation, the PS-DBM continues to transition its clientele to the digital space.
Beginning August 2021, agencies have to submit their Agency Procurement Request (APR) through the Virtual Store (VS) only. Thus, manual submissions will no longer be entertained; VS kiosks are available at the PS-DBM Main Office for those that have yet to activate their VS account and access it for the procurement of common-use supplies and equipment (CSE).
READ: ADV 2021-008: FULL IMPLEMENTATION OF THE VIRTUAL STORE
Client-agencies are also reminded that the submission of the 2022 Annual Procurement Plan-CSE is exclusively via VS—template of which can be downloaded from the same online facility. Deadline of submission is on or before 31 August 2021.
READ: ADV 2021-007: SUBMISSION OF THE 2022 APP-CSE
Speaking of CSEs, the delivery by PS-DBM option is suspended until the ECQ status is lifted or until further notice. Please note, however, that an exemption to the suspension of delivery services is applied to urgent supplies and equipment ordered by the Department of Health and other client–agencies upon request.
READ: ADV 2021:011: SUSPENSION OF DELIVERY TO CLIENT-AGENCIES DURING ECQ
Amid these, the PS-DBM anticipates walk-in transactions for other concerns which are limited to activating Virtual Store through kiosks, paying through the cashier, purchasing from the Retail Store, claiming of CSE orders, and other allowed cases with considerable reasons.
The PS-DBM wishes to reiterate that an appointment slot for all walk-in transactions must be secured prior to visiting the Main Office through the Online Appointment Portal (OAP).
Please be reminded that only confirmed appointments made through the OAP will be accommodated. This is to ensure that physical distancing and proper health and safety protocols are strictly observed.
All walk–in clients must maintain physical distancing, wear proper face masks and face shields, submit themselves to a temperature check, disinfect their hands regularly, and fill out the necessary contact tracing forms.
The PS-DBM is one with the Filipino nation and the global community in putting an end to the pandemic by enforcing quarantine guidelines while fulfilling its mandate to continuously provide smart procurement solutions.
Thank you for your cooperation.
This article will be updated as necessary, in line with the prevailing quarantine status in the area.
For more information and updates, visit our website www.ps-philgeps.gov.ph, like us on Facebook facebook.com/ProcurementServiceOfficial, follow us on Twitter twitter.com/PS_DBMgovph, and subscribe to YouTube channel youtube.com/ProcurementServiceDBM.