As part of the PS-PhilGEPS' capacity building program, a series of trainings and workshops has been conducted by the General Administrative and Services Division (GASD) that aid in developing the skills and abilities of its employees that in turn leads to higher productivity and effectiveness at work. The program aims to increase and upgrade the PS-PhilGEPS' capacity and skills in government procurement by learning and adopting latest concepts, information and techniques that is beneficial for the organization.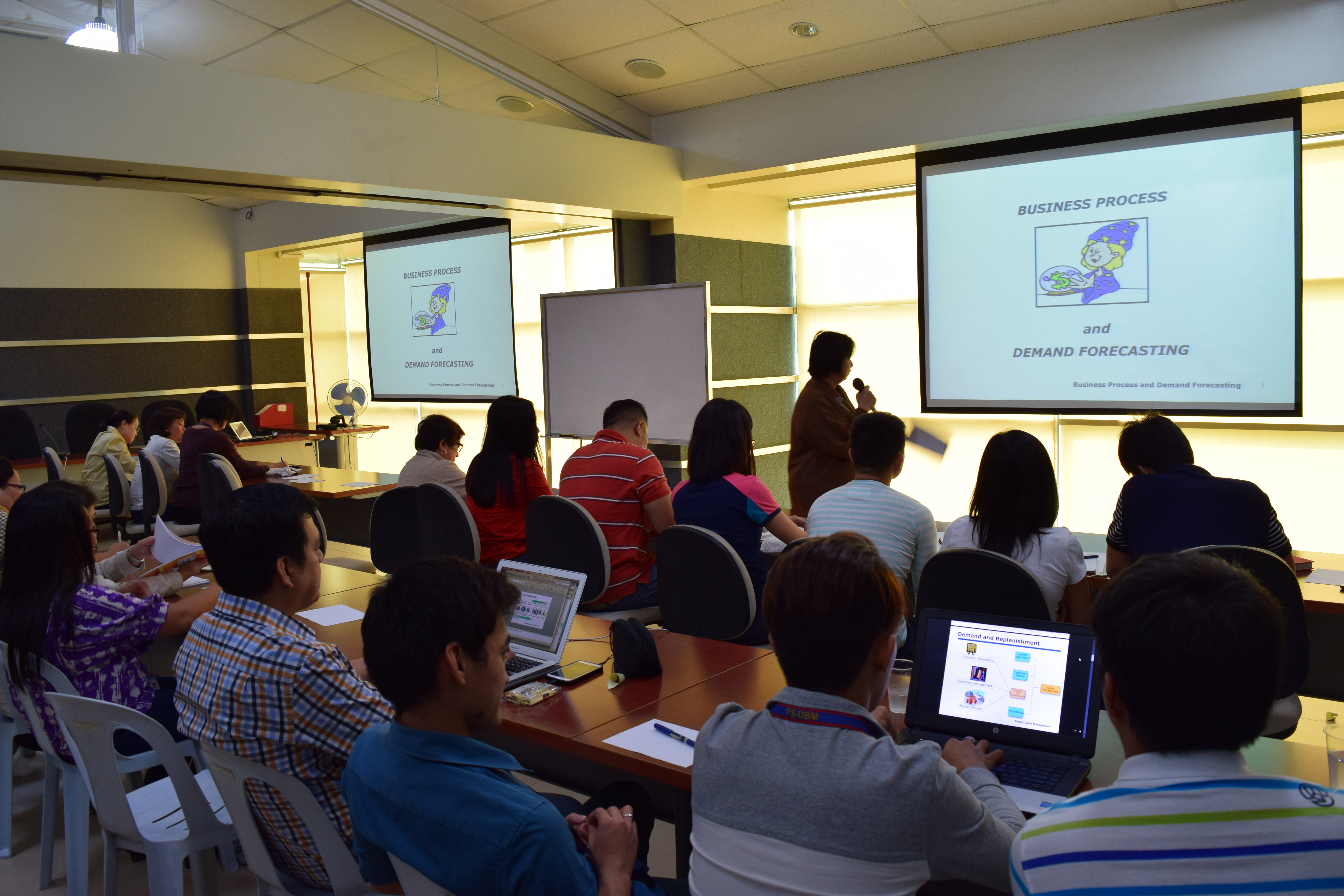 Ms. Lulu Guzman discusses Business Process and Demand Forecasting to the participants.
To name a few, the GASD conducted a series of trainings on Supply Chain Management for its employees and staff, conducted by Ms. Lulu Guzman from PISM, covering topics in transportation and distribution, inventory planning, warehousing, forecasting and procurement. The trainings ran from March to August 2015 to accommodate more participants and covering all relevant topics. The said activity also led to the endorsement of some employees to a diploma course in Supply Chain Management at the De La Salle – College of Saint Benilde School of Professional and Continuing Education (DLS-CSB SPACE) in partnership with the Society of Fellows in Supply Management, the advocacy arm of the Philippine Institute for Supply Management (PISM), the country's premier professional association of supply management covering its four pillars: Demand and Replenishment, Purchasing, Logistics Operations and Customer Service.
A workshop on Office 5S was also conducted to promote effectiveness and efficiency in the workplace through well-maintained work stations that provide proper, adequate and accessible facilities; working and efficient equipment; and conducive, safe and secure work environment that nurtures teamwork, motivation and productivity. This is also a move to boost efforts of the PS-PhilGEPS towards obtaining ISO 9001:2008 Quality Management System (QMS) Certification.
Moreover, in view of the efforts of the government to strengthen capacity of procurement institutions for effective implementation and enforcement of the RA 9184, employees were also sent to attend the Pilot Training of the Procurement Professionalization Program. This program was funded by the World Bank thru the Institutional Development Fund (IDF) Grant for Strengthening the Capacity of Procurement Institutions for Effective Implementation and Enforcement of the Procurement Law, with the assistance of the Government Procurement Policy Board and its Technical Support Office.
Below are some of the additional trainings and workshops that were undertaken by the PS-PhilGEPS:
• Review sessions for the CSC Career Service examination
• Chief Financial Officer's Talk
• Series of Training Workshops on Technical Specifications and Tendering
• Training on Archives and Records Management Information System (ARMIS)
• Archives and Records Management Information System (ARMIS) Programmer's Workflow Design training
• Training on Windows 7, Enterprise Desktop Support Technician
• Training on Querying Microsoft SQL Server
• Archives and Records Management Information System (ARMIS) User's training Seminar Workshop on Administrative Justice
• Participation to the Singapore-United States Third Country Training Programme: Public Procurement in Singapore
• Training on Administering Microsoft SQL Server 2014 Databases