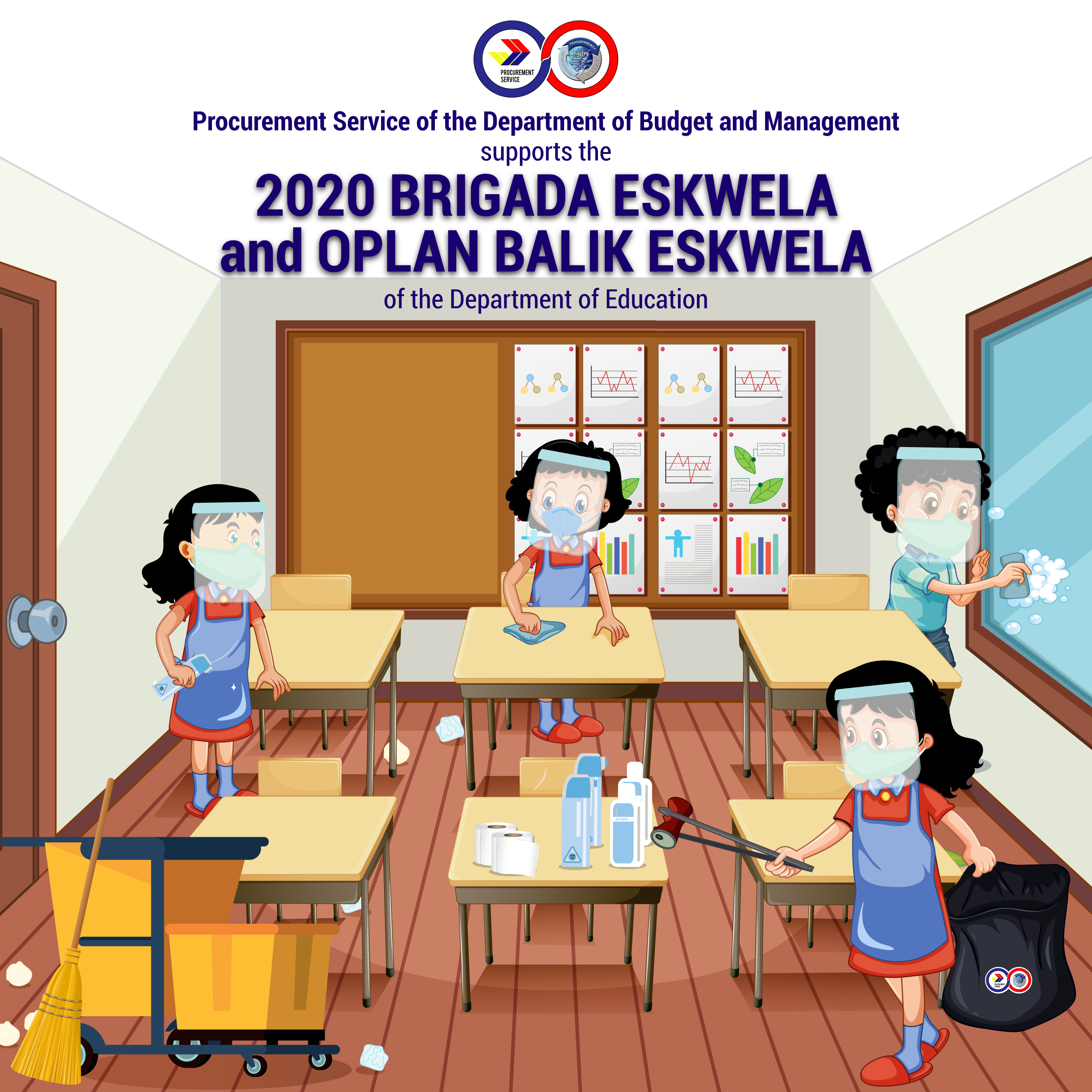 In support of the Philippine Government's efforts to minimize the impact of COVID-19, the Procurement Service of the Department of Budget and Management (PS-DBM) offers school supplies and other essential items relative to the Department of Education's (DepEd) conduct of 2020 Brigada Eskwela and Oplan Balik Eskwela.
In the joint implementing guidelines on these activities as stated in Memorandum No. 53 s. 2020, DepEd developed Basic Education Learning Continuity Plan (BE-LCP) which ensures that quality basic education will continue despite the challenges posed by the pandemic.
Among the items that the school heads were directed to secure are thermal scanners, hand sanitizing materials such as alcohol, cleaning tools, disinfectant sprays, face masks, face shields, and surgical gloves—the procurement of which is to protect the health, safety, and well-being of learners, teachers, and other school personnel.
PS-DBM offers COVID-19 response items that education stakeholders may use for the upcoming school year in the time of pandemic.
DepEd also took into consideration alternatives for learning opportunities which will not require physical presence in classes this coming school year (SY). In line with this initiative, provision of supplies for distance learning such as bond papers, worksheets, notebooks, pad papers, ball pens, pencils, crayons, and coloring materials, among others, is also deemed necessary.
With the possibility of conducting online classes, PS-DBM is now offering additional sets of desktops and laptops. Software and licenses, meanwhile, are continuously being offered.
The DepEd memorandum also indicates that Brigada Eskwela and Oplan Balik Eskwela shall take place from June 1 to August 29, 2020. Depending on the prevailing local risk classification and community quarantine guidelines, the traditional conduct of these activities can still happen two weeks before the opening of classes in public schools on August 24.
In anticipation of these, DepEd is gearing towards establishing new normal for schools to keep educational institutions virus free, clean, and safe if or when face-to-face preopening and opening of school activities be allowed.
PS-DBM continues to procure COVID-19 response items and other commonly-used supplies and equipment in aid of our valued client-agencies. Visit our catalog to view all available items: bit.ly/3h1BwmS.