The Procurement Service - Philippine Government Electronic Procurement System (PS-PhilGEPS) partners with different Merchants in conducting various client engagement activities through product presentations.
For the first quarter of 2015, PS-PhilGEPS conducted three (3) product presentations in partnership with different merchants, namely Accel Prime Technologies Inc. (APTI), Microsoft and Integrated Computer Systems Inc. (ICSI).
The product presentation hosted by APTI was held on January 23, 2015 in Sofitel Philippine Plaza Manila, Pasay City. It was attended by 105 government employees coming from the National Capital Region and 11 from private companies. The presentation showcased their latest products involving the latest offerings of Toshiba, Microsoft and Epson.
 A total of 105 government employees attended the APTI Product Presentation Activity.
Mr. Wu Tengguo, Managing Director of Toshiba Singapore Pte., Ltd., introduces the history of Toshiba. 
On the other hand, a technology immersion was conducted by Microsoft through their partner company, First DataCorp. (FDC), on February 25, 2015 at the Microsoft Office, Makati City. The activity was exclusive for government agencies that purchased Microsoft products under the consignment agreement from October 15 to December 19, 2014. Microsoft talked about their latest products involving interactive presentations, demos and discussions with subject matter experts on the Windows 10 and Enterprise Cloud Suite which covers Windows Software Assurance per User, Office and Enterprise Mobility Suite. Likewise, FDC discussed the PS-DBM Microsoft Volume Licensing Procurement Process.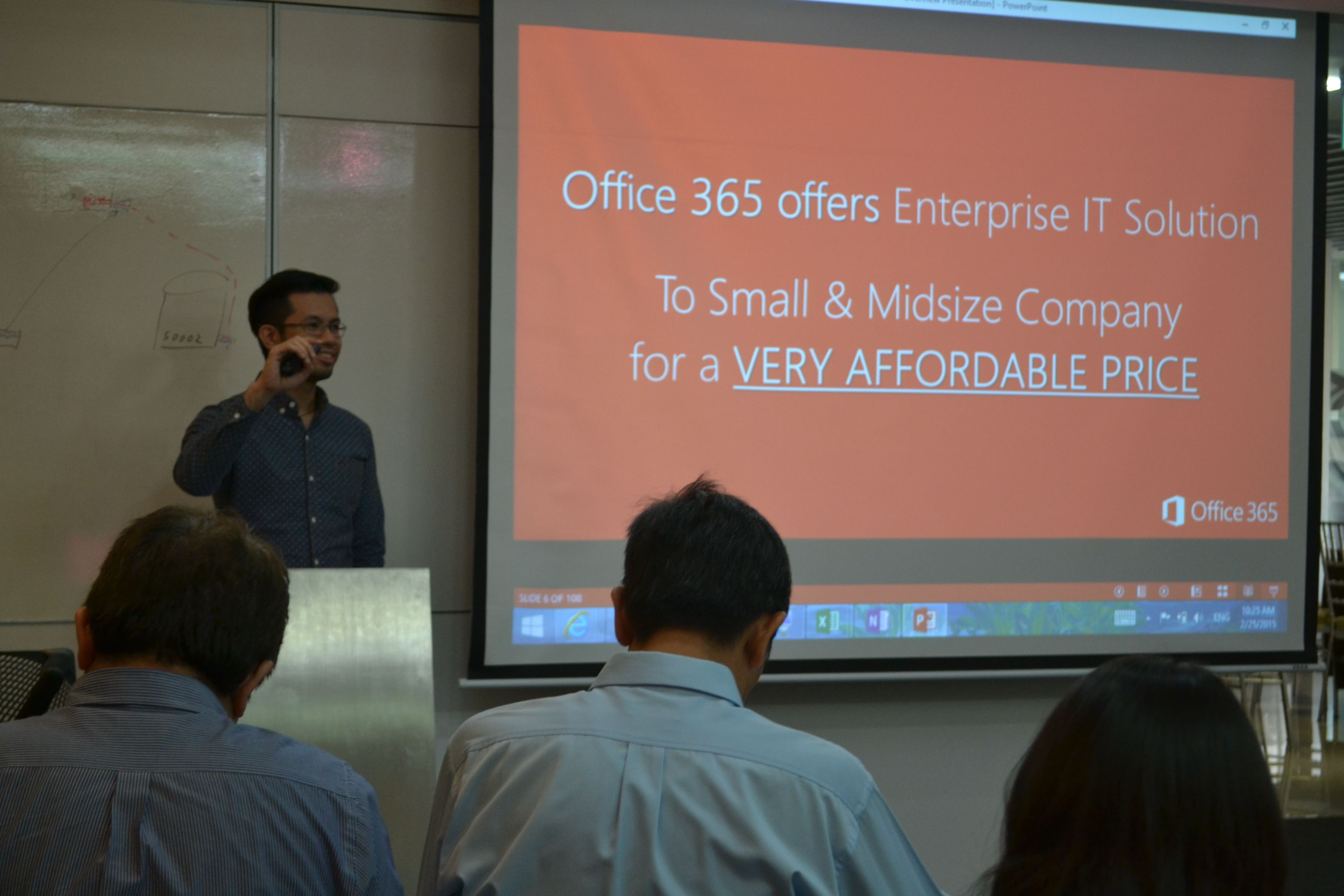 Mr. Geary Hinolan, Partner Technology Advisor of Microsoft Philippines, discusses the Office 365.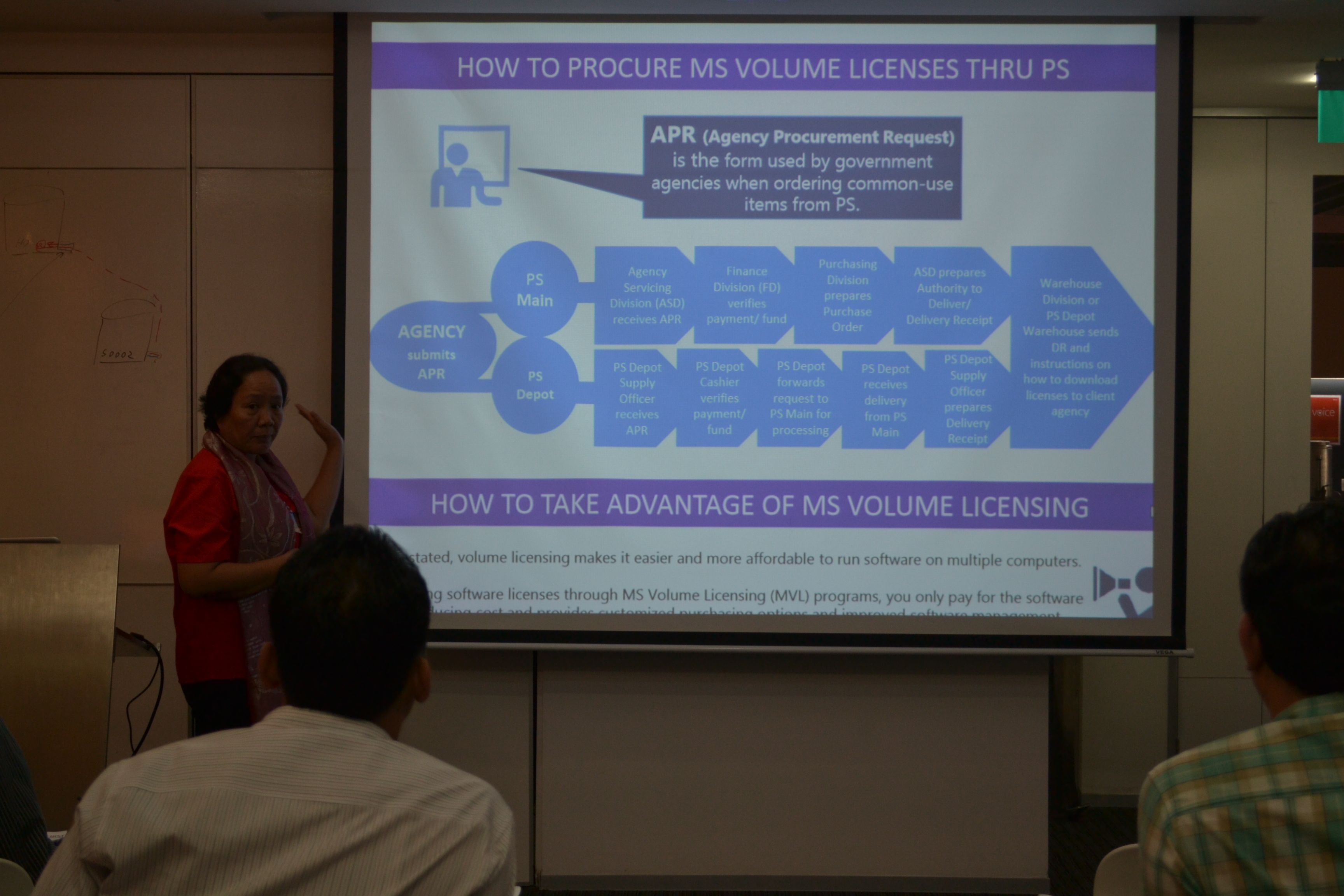 Ms. Ma. Gemma Villanueva, from the Agency Servicing Division of PS-PhilGEPS
discusses the process of procuring Microsoft Volume Licensing thru PS.
While ICSI conducted its product presentation on March 18, 2015 in Dusit Hotel, Makati City and was attended by a total of 71 staff from different government agencies. The activity focused on the products of ICSI involving the latest offerings of HP. In addition, HP Philippines hosted a Technology Update on its new laser and inkjet printers and a workshop regarding the Science of Printing. It was also an occasion for ICSI to sign the Ordering Agreement for the sale by the PS of genuine HP consumables at a low and special pricing for the aggregated requirements of government agencies.
Ms. Helen I. Santos facilitates the workshop regarding the Science of Printing.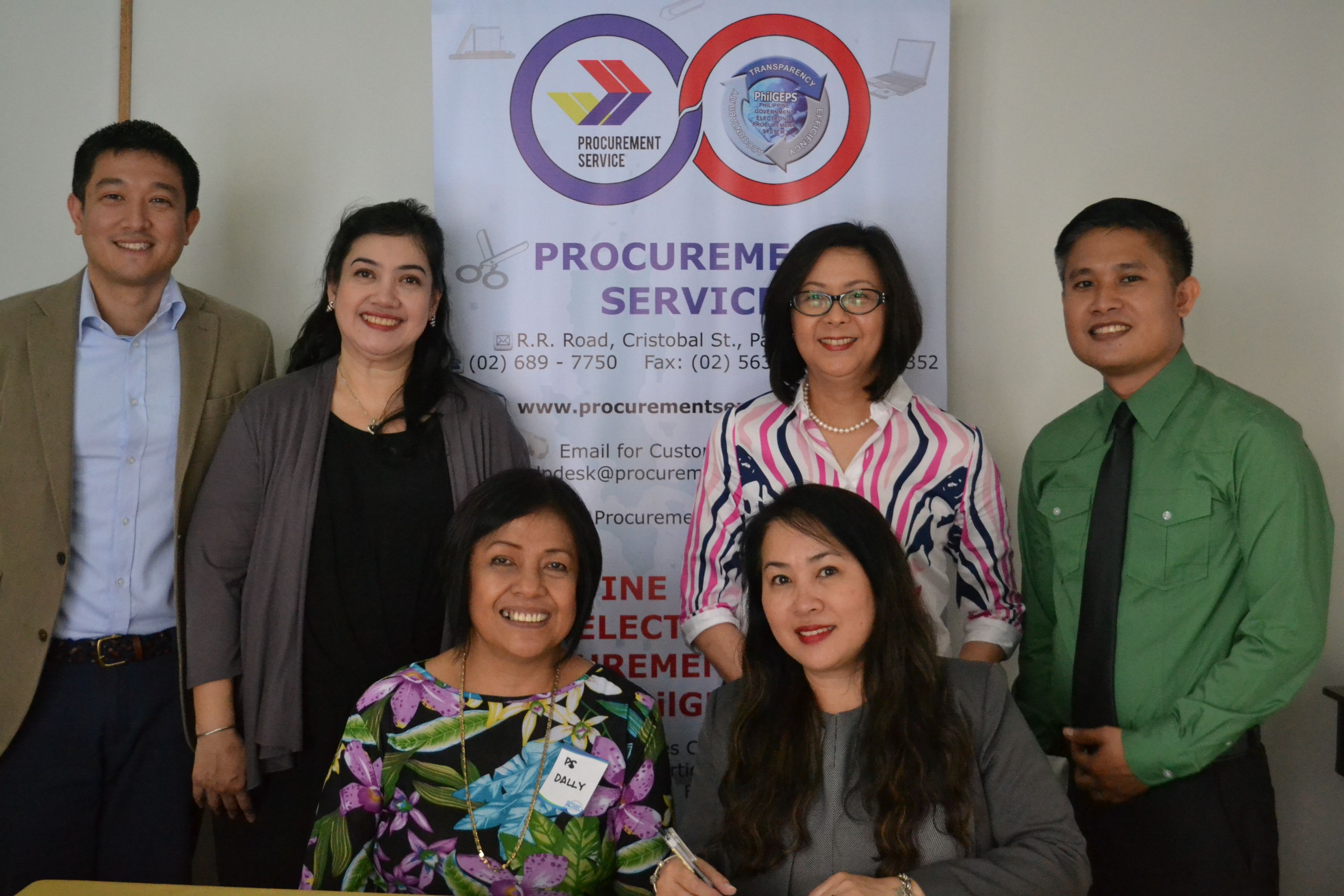 From left to right (top): Mr. Charles Vincent R. Lizares (Print Category Manager - HP), Ms. Leah M. Valdez (Chief of Business Affairs Division, PS-PhilGEPS), Ms. Diana D. Yu (AVP for Supplies Division - ICS) and Mr. Mark Anthony C. Antonio (Enterprise Supplies Manager - HP).
From left to right (bottom): Ms. Dalisay Conrina P. Dela Chica (Chief of Planning Division – PS-PhilGEPS) and Joyce Andrea A. Guanzon (Sales Supervisor for Supplies Division – ICS) 
PS-PhilGEPS also took the opportunity to update the participants of the product presentation activities with the improvements and efficiencies that the agency put in place to better serve its clients such as the preparation of the Annual Procurement Program and PS' forthcoming operation of a Retail Store and putting in place of a new ordering system.
Client Engagement Activities in the form of Product Presentations are avenues where the PS-PhilGEPS bring together client agencies and merchants. These sessions offer robust information on the latest trends and innovations and lends visibility to suppliers' products. Client agencies are given infinite opportunities for product knowledge and networking, factors that are essential to their roles as government buyers. To partner with the PS-PhilGEPS on conducting Product Presentation Activities, merchants may get in touch with the Business Affairs Division by emailing them at This email address is being protected from spambots. You need JavaScript enabled to view it. or calling them at 640-6900 locals 8401 and 8402.