Details
This reply is being posted in response to the article published in PhilStar Global, "Govt on ASEAN hosting bid: We rule, our rule", dated 10 January 2017:
1. "The Department of Budget and Management denied violating procurement rules when it bidded out the P2.8-billion contract for the hosting of the 2017 ASEAN conferences in the country, saying it has full discretion in determining the rules for such processes".
RESPONSE/CLARIFICATION:
Non-Policy Matter Opinion No. 180-2015 issued by the Government Procurement Policy Board (GPPB) in 2015 provides that the procuring entity is in the best position to determine, based on its primary purpose, motivation and intention, and on the nature of the contract, whether the intended project should be classified as goods or consulting services. This is in reference to the selection of the mode of procurement for mix procurements only. Once determined, all procurement rules pertinent to the chosen mode of procurement were strictly applied and complied with.
Read more: Response to the article "Gov't on ASEAN hosting bid 'We rule, our rule'"
Details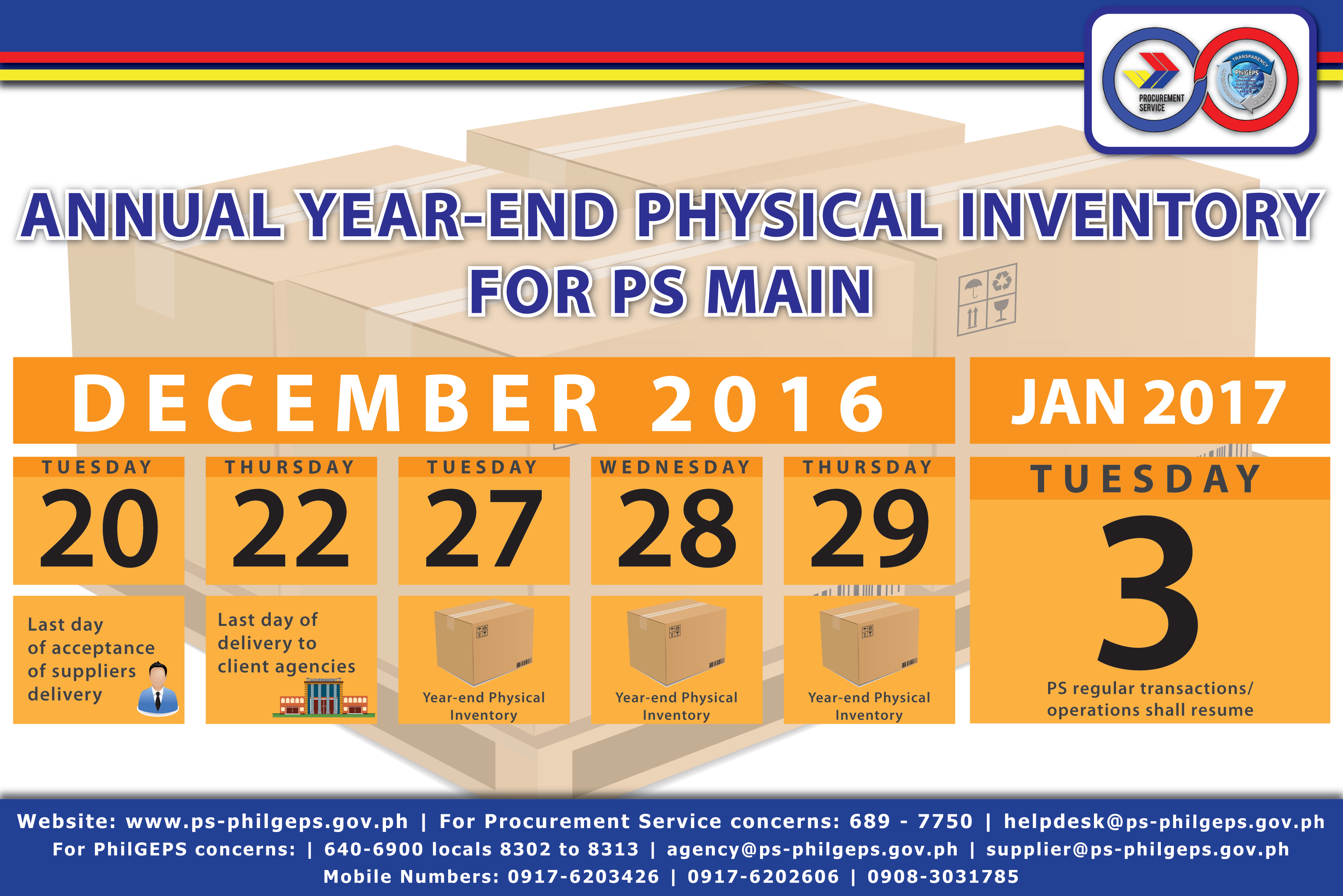 The PS – PhilGEPS will be conducting its Annual Year-End Physical Inventory for CY 2016 on December 27 to 29, 2016.
Please be advised of the following schedules:
• Warehousing and Logistics Division (WALD) will deliver goods to agencies until December 22, 2016
• Suppliers delivering to the PS Main will have until December 20, 2016 to deliver supplies.
• Regular transactions will resume on January 3, 2017
For more information, kindly contact the Sales Division at (02) 6897750.
Details